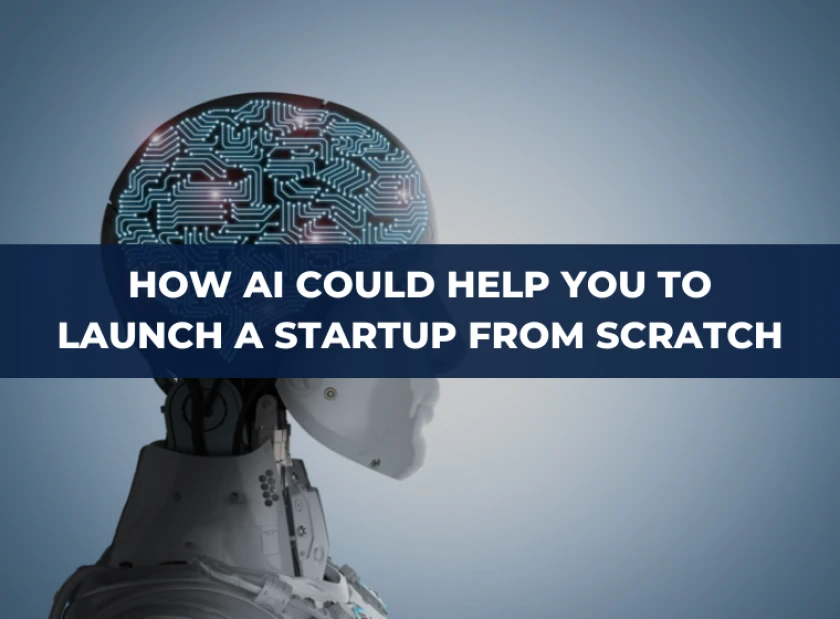 If you have ever been thinking about launching an IT startup, whatever coding and development skills you have, consider using AI as an assistant. Using AI, you could do a lot of things by yourself to launch your IT startup from scratch.
At the start, there is always the pressure of lacking resources, information and time, and AI could accelerate processes and save you time and energy. In this article, we share with you how exactly AI could help you in your business. We have experience in launching startups, so here we will guide you through the steps of launching your startup and show what AI could be useful at each step.
1. Any startup begins with an idea.
AI could help you even in such a human issue choosing an idea for your startup. Here, for example, ChatGPT (now there is a GPT-4 version that understands pictures too and is reliable, creative, and able to handle much more nuanced instructions than the previous version) could clarify and deepen your thoughts and help you to come up with the final idea. ChatGPT helps you to structure your startup project, so you could elaborate on your business idea. AI could now do some piece of business analysis for you - to give you information that could help you to fit your idea and startup into a market. It will do it using the information it has now for your request. Of course, AI could not replace business analysis, as it lacks the experience and vision of a professional. However, you could get a piece of information for a start.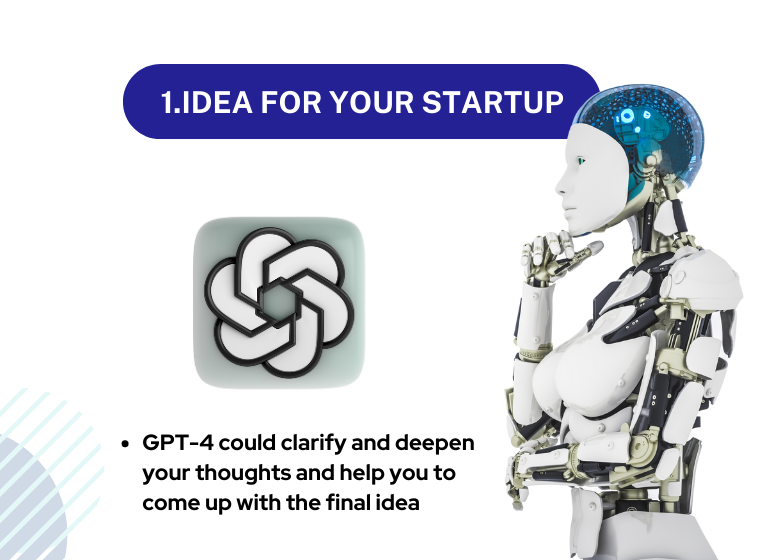 2. Develop a design and mockup with AI and then go to a designer (if you need it).
ChatGPT could also generate a design and mockup for your startup - for a mobile app or website, that you could use for a request to Midjourney. So one AI helps you with the other AI. Using the information from ChatGPT, Midjourney generates a sketch and pictures for your project. At this starting point, AI saves you money and time not hiring a designer. However, you could ask a designer to develop a project using AI-generated descriptions, sketches, pictures and colour palettes and save up too.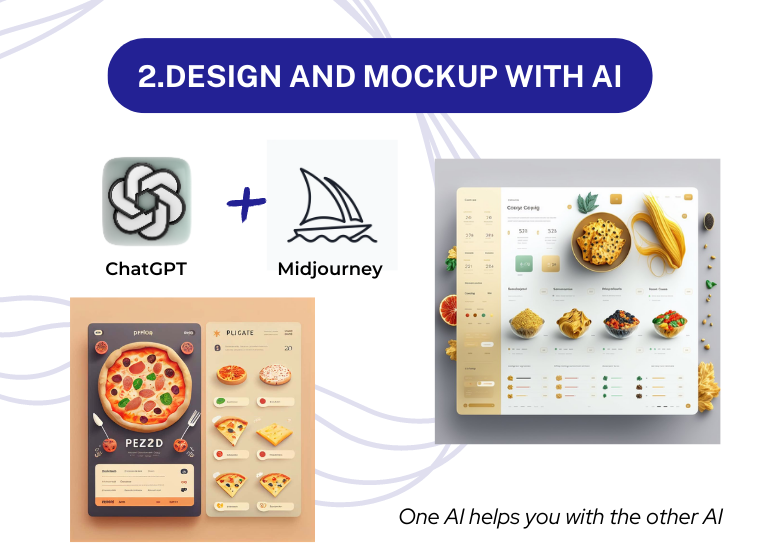 3. Create content using AI for your startup.
Now there are AI services that could assist you in creating content for your presentation, social networks or website, so you could develop your project faster and with a minimum budget.
If you need a logo and name, then Namelix could help you. As well as you could get fonts from Fontjoy and a brand book from Brandmark.io for your startup.
When you would like to create content – text or picture, then Unbund will help you. If you have a picture of your product, then Kartiv makes for you creative videos, photos and 3D images from this picture.
You could draw a poster or icon for a website with the help of Autodraw.
When you create a video with your product or about your product, and you need to translate it into other languages as you have a worldwide audience, then use Neurodub, and you could save your money for translators.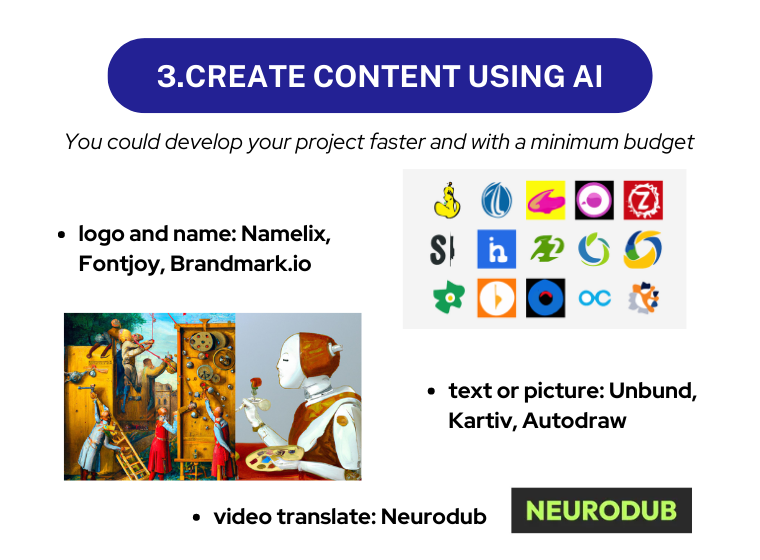 4. Make a presentation of your idea using AI.
I could make presentations using your sketches, and you should just edit. Beautiful.AI will create for you a presentation according to your request: the service finds information and layout it out in a slide. The last word is always yours: you as founded know best how it should be (or your business analyst).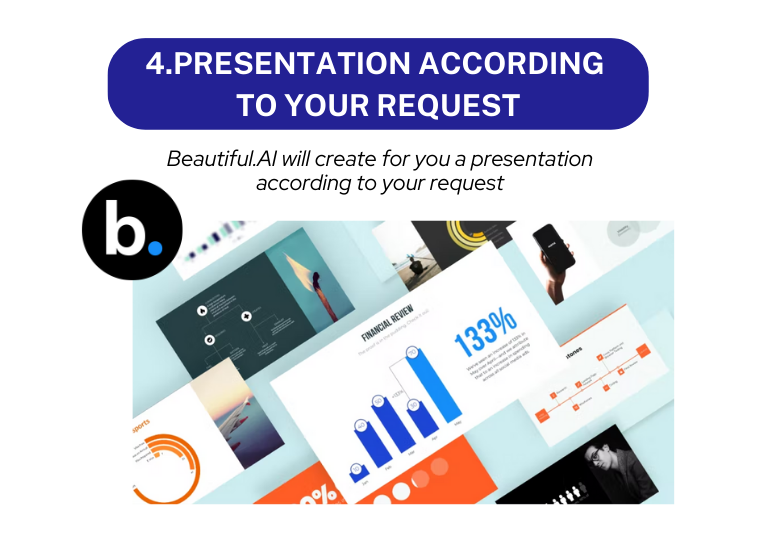 Chat GPT could help you in the elaboration of your business idea but at the preparational stage. Any idea should be tested with the help of the audience (wherever a cool idea you have), and a business analyst, designer and project manager are to finalize your presentation.
5. Develop your MVP with the help of AI
If you have no coding skills and your team also lacks them, no AI could help you, as it is an instrument for work. So in this case then ask us or other IT companies for help (how to choose them we wrote here). But in case you are developing your MVP by yourself, AI could be helpful. For example, it provides you with a piece of code. There are already plugins for IDEs with ChatGPT integration to generate code at the developer's request and accelerate basic code writing. But you always have to check this code. In the future, AI will provide substantial help in coding, but no AI could replace human skills and experience, and it serves as an instrument to accelerate work.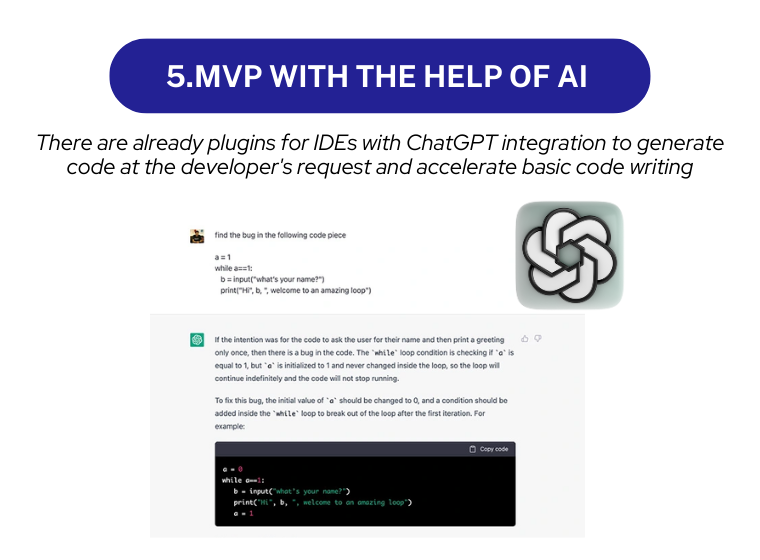 When you are developing your MVP, there is a question of choosing a cost-effective and workable platform and technology. You could even ask ChatGPT what technology to choose to produce, for example, an app. It will propose Flutter among others.
We use Flutter because it is this contemporary open-source software development kit created by Google. Our company has worked with Flutter since its development, so we have the ready projects built with Flutter.
Flutter covers iOS, Android, and web development, so you could save up on your MVP development.
Flutter is more technically progressive than React Native, and while React Native is also a cross-platform framework, working with Flutter is fast and easy.
For the back-end development of your MVP, there are different options. If your MVP project is small and you would like to test with audiences, use FireBase and you could even do without a back-end developer. But if you are developing a large system with proper planning, then we recommend NodeJS as the back-end development system. There are a lot of NodeIS developers and the entry level for this position is low, so the rate paid for developers is not high (in comparison with Java, .NET and Golang).
The most important thing at this point is to lay down the right project architecture.
Using AI, a middle developer could help you with your startup project, but there is a risk that the architecture will be weak. A middle developer has much experience as a senior, who has not only several years of development work but the number of mistakes that were made and attempts that taught seniors how to write software effectively, to think globally and to have a profound view of a development task.
We have our proven architecture that was submitted by our company with all Flatter developers, and we use this architecture in our projects. As no architecture is ideal from the start, we developed our architecture so that we could adapt to any startup project and not start from scratch. It makes development easy for our specialists to join the project and accompany it and also secures our work from bugs as we have already projects made with this particular architecture for our startups. By doing this, we accelerate our work in projects we participate in and keep up the high quality of our work.
Before starting the development of any project with our business analysts and designers we think over in advance about what could work and give the best results, and not just produce "a product". We solve our client's problems, and we do not make them for a client. So if you would like to solve your problem with startup or software, contact us.
6. Develop your marketing strategy and sales.
With the ready IT product, you have just 20% of your business project: at this point, you need to build up your marketing, sales and customer support. On one side, marketing is an art, but AI could even help you with that. Amazon and other services stimulate customers to buy the popular products that were selected by AI as popular ones.
AI could write texts, promos and slogans for your marketing campaign, and then you could use this text or audio generated from text to make a video using AI.
ChatGPT, for example, could assist you with lead generation: you ask it to give you a local businesses that do not have websites, and you will get names. You find their contacts in open access and reach them.
You could ask AI to help you with your target audience: and it will be your starting point. Your request should be very well described and precise.
AI helps you with target and contextual ads as it produces texts from your request.
And even for SEO tags, there is such AI solution as Ranked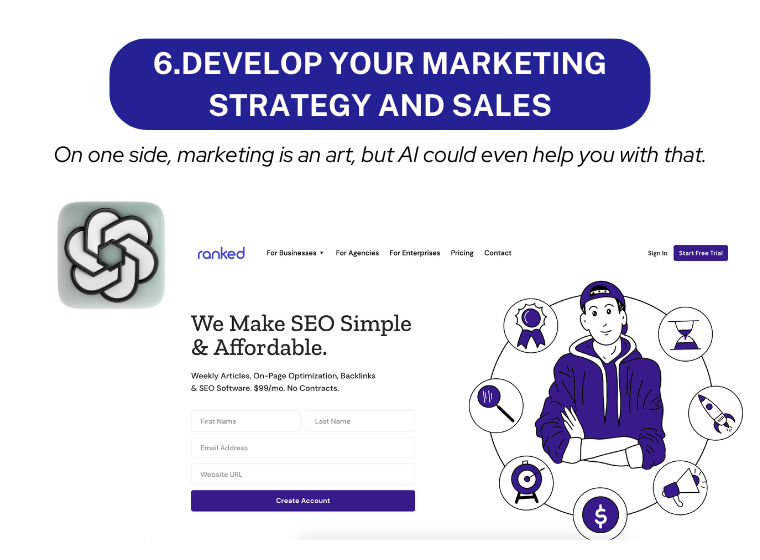 Today companies use AI to make calls to contacts from a base: a client is speaking with a robot that was programmed to make cold calls. Robots are so highly developed that you could not understand that are speaking with robots. However, if you are selling B2B, you use your own personal communication and business skills, and AI could be used in other issues.
7. Use AI for your customer support.
Your product needs to have customer support, as always there are questions when customers use your product. Earlier a business had to have a large customer support team, and with AI there is no need for it: you could have a support team working 24/7 and responding to the questions of your customers. You browse a base of requests to an AI, and it chooses answers to customers' questions. AI covers simple and often-asked questions to free your customer support team for more complex cases.

Takeaways
AI could give you a boost in launching your startup from scratch. Searching for an idea, doing business analysis, coding, making content, developing marketing and sales - AI could help you at the starting point with all this and other things. AI accelerates your work and gives you a structure under which you could work further on.
In the future, AI will be capable to write a good business plan from your voice input, tuning marketing and sales plans, downloading your products to a platform and filling in the product cards, selling your products and sending them to customers. Today it is not possible, so if you have questions about launching your startup or you would like to know more about how to apply things we mentioned here to your startups, please contact us.