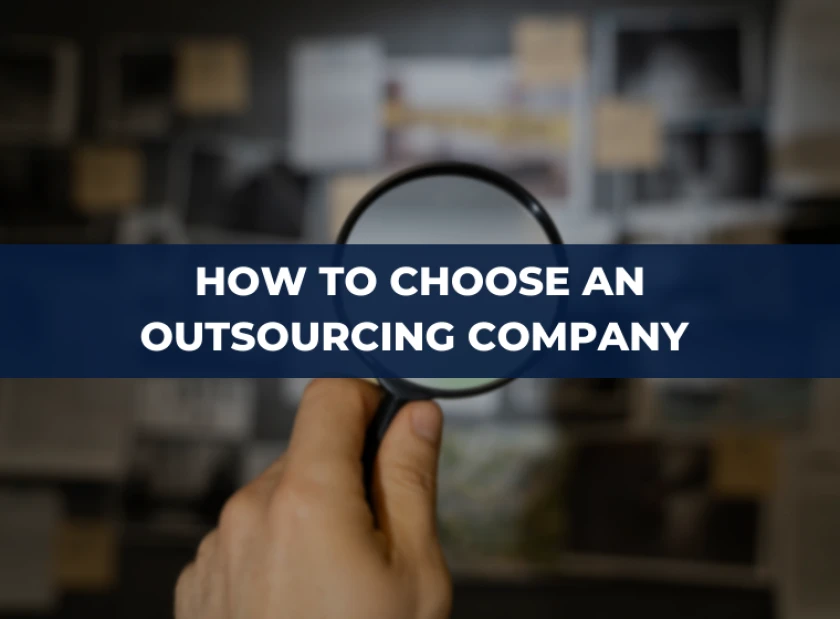 Our clients, with whom we have proven 7 years of experience in cooperation worldwide as an outsourcing company, tell us about their successful and not successful cases of collaboration with other IT outsourcing companies. We have been told a lot of stories.
When you are looking for it outsourcing company for your new website, app or any software, it goes without saying that you want your IT partner to be professional and cost-effective. However, if you take into attention only the price of a company's services then the quality of your project could be put at risk.
In this article, we share with you some tips on how to choose the right one among different outsourcing companies for not to make mistakes.
1. Google it and Look Through
Before you start looking for your IT partner, define what type of outsourcing company you need. It could be companies that specialize in web or app development, or e-commerce development.
When you will identify the profile of an IT outsourcing company, then you could use Google to find some candidates. We also recommend you visit platforms for B2B service providers (such as Clutch), and ask your colleagues and friends about the IT outsourcing companies they had possibly worked with.
Check the information on the internet and media about the founders of the chosen IT partners, and try to find the profiles of founders on social networks.
Reg flag: If a founder is among the developers.
When you start analyzing a company's website, look for cases and customer reviews. Such information will give you an understanding of the scope of work a company had dealt with previously and what was the final result. In the next section, we speak about how to analyze a company's portfolio.
Before we start, just a few words about the geographical position of chosen companies. If a company you found is not located in your country, it is not a problem, and it could be a plus, as you could have services of high quality at lower prices. It is a good sign when a company has offices in different countries, so there would be no problems in accepting international payments or concluding international contracts.
Read also: How IT Outsourcing Saves Costs for Your Company
2. Experience: What to Pay Attention To
When you will analyze the scope of work a company has done, just remember that no IT company has dealt with the 100% of possible tasks and all spheres. However, it is important that your potential IT partner will have the competence you need: it is a guarantee of a comprehensive understanding of your task.
A reliable IT contractor is interested in the technical side of your task as well as aimed to understand the whole picture of the project and your business processes.
For example, when developing a mobile app, we concentrate not only on the technical task but we analyze the whole project and all services linked with a project. How this product will be used by employees and clients? What information will it be filled with?
Good! An IT provider understands the whole business logic of a client or project.
Aside from a technical side of a project stands its developed business structure and its usage by people - what we call a hidden part of the iceberg. By understanding this a company demonstrates a comprehensive approach to your project. You also need to be fully involved in your project, as your IT partner.

3. 10-15 Requests for Collaboration are Ok
When you are looking for your IT partner, mind the time you spend choosing your IT partner among the outsource it companies. Be ready to spend several weeks searching for the right company.
We recommend you to send 10-15 information requests to the companies that you have chosen. Do interviews with them and get acquainted with teams of outsourced it companies and tech leads.
When you feel comfortable communicating with a project manager and sales manager of an outsourcing company, it is a good point. Nice communication is an important part of a collaboration with your IT partner. Technical skills and professional competence are important, but the absence of proper and enjoyable communication could ruin your cooperation and lead to an unpleasant collaboration experience and poor results.
Good! You could have a technical consultant that helps you to feel confident while communicating with an IT company. If you do not have it, then just keep communicating with the different outsourced IT companies and you will get experience.
4. Prepare a Mockup or Be Ready to Prepare the Mockup with an IT Company
When you communicate with your potential IT partner, it is good if you have a technical task and/or developed design (a mockup) for your project.
Technical task will help you to analyze proposals of different outsourcing companies (especially, if you do not have a technical consultant by you) and not overpay lately. With an idea and budget, work will also be done, but in the end, the difference between your initial and final budget could reach 30-40% or even 100%. A technical task could be prepared during the meeting with your potential IT partner.
Maybe you would also need a mockup of your project, especially if you would like to develop an app. You will spend some money on your mockup but it is the necessary minimum you spend on your project. A mockup helps to understand the scope of actual work and if necessary, future work - for the client, and company. For example, a mockup could assist you to produce an MVP (Minimal Viable Product) in 2 months, and then the other adjustments could be planned and made.
Reg flag: When a company proposes to work with a fixed price without any previously developed design.
Additionally to your well-written technical task and properly developed design you could need an estimation of your project. Project estimation helps you to understand resources (time, workforce and costs) to finish a project. A mockup is an element of estimation. You could do it with your IT partner or with your technical consultant.
When you have everything clearly written and divided by periods of time - the scope of work and finances spent on it, all the parties are secured. You understand what you could get by a particular date and developers could get their payment for the work done. It is an iterative process step by step: a piece of work is done and shown to the client. It helps to stick with the initial plan and move forward.
Good! If it turns out that a company that has never dealt with some piece of work related to your project it should openly communicate with you and discuss hiring a subcontractor.

5. After Payment: Stay in Touch
When all the work will be finished, your outsourсing company usually provides you with any needed support during the following 2 months. It outsourcing company is responsible for the product it developed, so in case of any bugs that come up shortly after the work is done, a company helps to fix them. Do not forget to discuss this point with your potential it partner.
Takeaways
Looking for your IT partner is a time-consuming process. Smooth communication, a comprehensive approach and discussed project estimation based on your mockup are indicators that you have chosen the right company for your project.
Consider our advice and good luck in searching for an outsourcing company that will be a complete match!