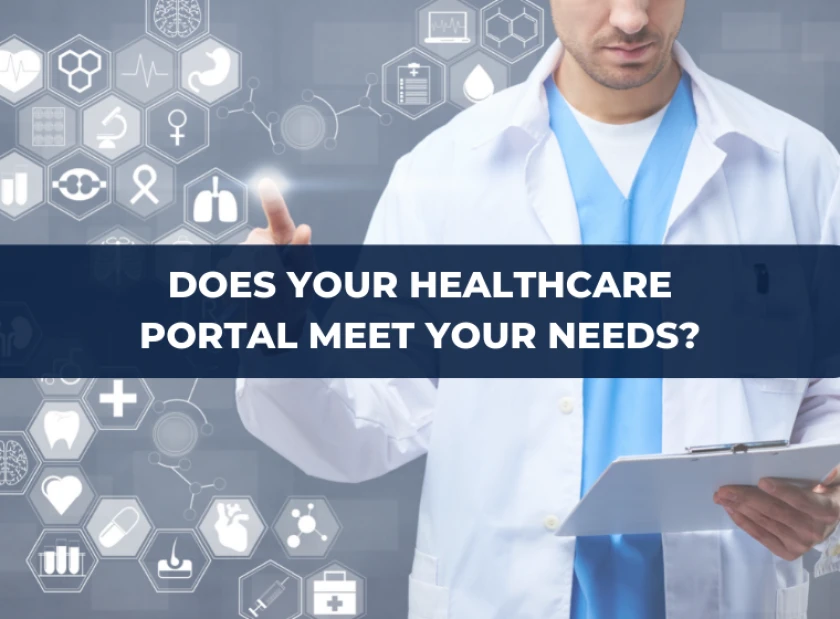 Recent time has shown how much the values changed in 2020. It was the right moment to slow down and concentrate on what really matters. Healthcare took the necessity to innovate, grow and deliver its service in the requirements of the new reality.
Recently, we have lived in the times when a visit to a doctor was inevitably connected to an endless waitlist, lines, and time-wasting on the phone to get an appointment. Today, both patients and doctors are accustomed to new technologies. More often, people choose telemedicine instead of in-person visits to the hospital. A new level of smooth and creative interaction between patients and healthcare providers becomes possible thanks to web portals. Along with improving the patient experience, web portals also contribute to hospital efficiency. They facilitate different in-hospital activities such as medical staff training, waste management, billing, and purchasing processes.
What is the necessity for a healthcare portal in today's medical practice, and how do you establish one?
A Healthcare Portal in Details
A web and/or mobile application designed to provide easy communication between a medical organization and a patient or facilitate in-hospital operations is known as healthcare portal software. For healthcare organizations, such portals serve as an opportunity to improve patient engagement, increase loyalty, control costs, and streamline workflows.
A healthcare portal might be one of two types:
A solution that can be used on its own.

A web portal in this situation has a restricted range of capabilities and isn't connected to any of the hospital's other systems. Simple interactions, such as arranging appointments and making payments, are handled by this solution.

A web portal that is integrated.

This is a more complicated solution that is linked to a medical billing system and an electronic health record (EHR). The cost of developing this sort of healthcare portal software is higher, but it provides greater benefits to the hospital because more administrative tasks can be automated.
Examples of successful patient portals: Сhcnetwork.org, Allscripts.com, Athenahealth.com, Cerner.com, Eclinicalworks.com, Greenwayhealth.com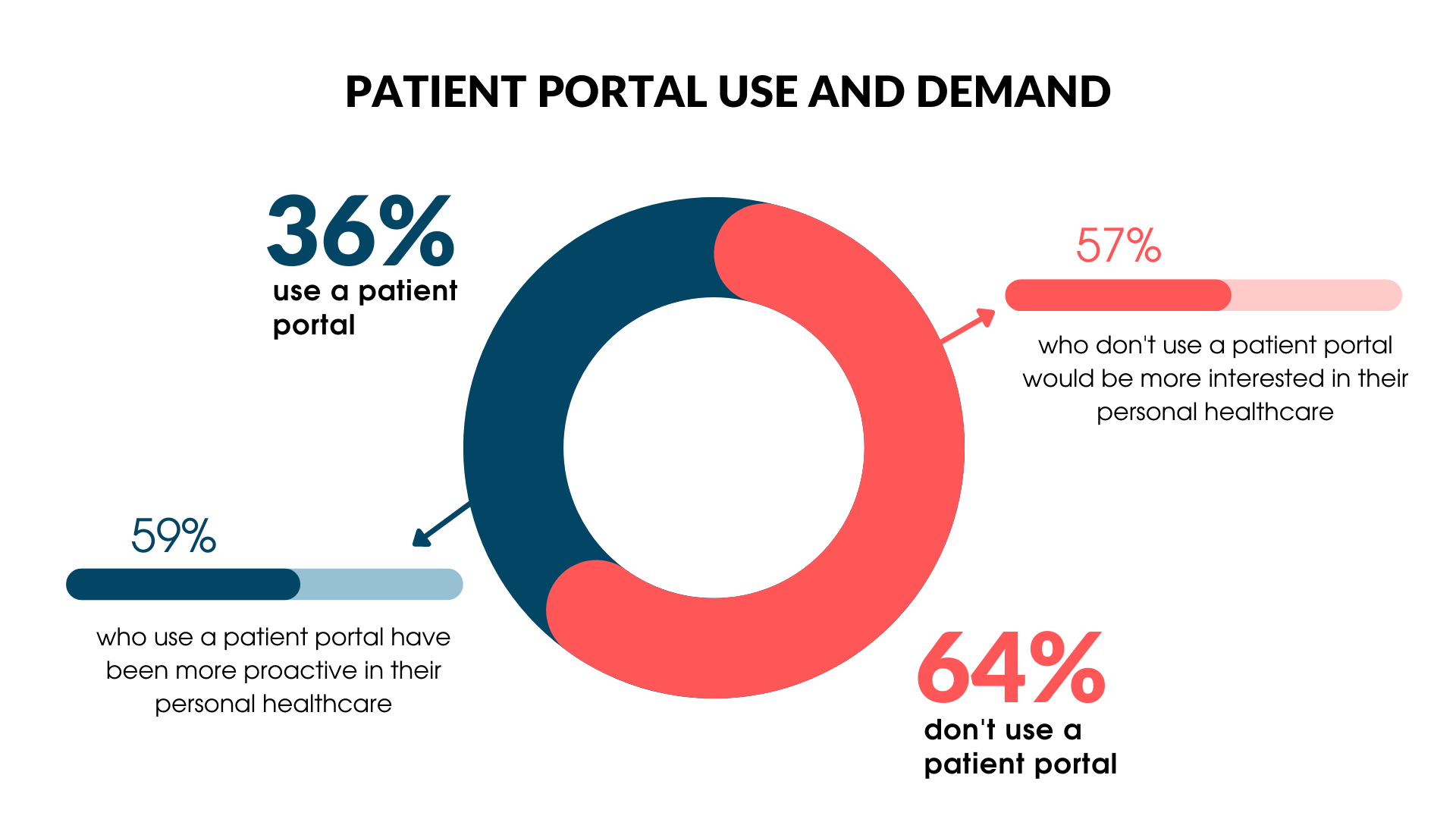 Benefits Of Healthcare Portals For Medical Organizations
Assist a healthcare administration in their duties.

Your hospital's medical patient software might act as a support group. Your patients may address difficulties on their own with the aid of the software, minimizing the workload of your healthcare administrators.

Enhance communication between the patient and the medical staff.

Furthermore, especially if it is driven by artificial intelligence, your hospital portal software may serve as an effective communication tool (AI). AI-powered chatbots incorporated in a patient portal may assist patients in keeping track of their insurance claims, sending payment reminders, sharing self-care recommendations, and automatically scheduling appointments.

Eliminate medical mistakes.

There is always the danger of misunderstanding when an administrator or nurse communicates with patients over the phone. The patient may self-manage the consultation appointment procedure, ask organizational questions, and get rapid responses via the medical portal.

Get on-demand access to real-time information.

With a centralized portal, you can have on-demand access to real-time data anytime you need it. Portals enable businesses to observe system changes as they occur and make reports or push data based on the most up-to-date information available. This helps keep records and improves decision-making processes.

Simplify in-hospital workflows.

Many healthcare processes may significantly benefit from automation. For instance, medical waste management is an unavoidable necessity in all companies. Facility specialists monitor waste streams ranging from garbage collection and recycling to everyday waste disposal. Using web portal solutions allows you to better handle waste management procedures, meet environmental requirements, and manage expenses.

Organize training for medical staff.

You can more easily educate personnel to fulfill compliance standards by delivering training programs via a web portal. For hospitals with multi-site locations, a web portal is also a good way to conduct training for all staff at the same time. In this way, you can save on hiring additional trainers. Furthermore, thanks to web portals, staff employees may receive training when it is most convenient for them. Your company may schedule training sessions into existing workflows so that the processes do not intersect, thus saving time and money.

Have a risk evaluation.

Along with better communication, education, and information exchange, web portals may assist in identifying and mitigating risks. Using centralized portals for reporting makes it possible to see existing concerns of different departments and offices.



A Patient-Oriented Portal Includes the Following Features
Scheduled appointments.

This is one of the most requested features for patient portals. Patients wish to utilize it for seamless planning in the majority of cases.

Access to health-related information.

Your patients may use this tool to see their lab test results, medical history, and therapy adjustments.

The ability to see bills and pay them.

Patients will find it even easier to pay for services or file insurance claims if your patient portal software is linked to your medical billing system.

Pre-visit forms.

Doctors interview patients for 10-20 minutes about their general health, immunizations, allergies, and concerns. Doctors can save time by filling out a pre-visit form.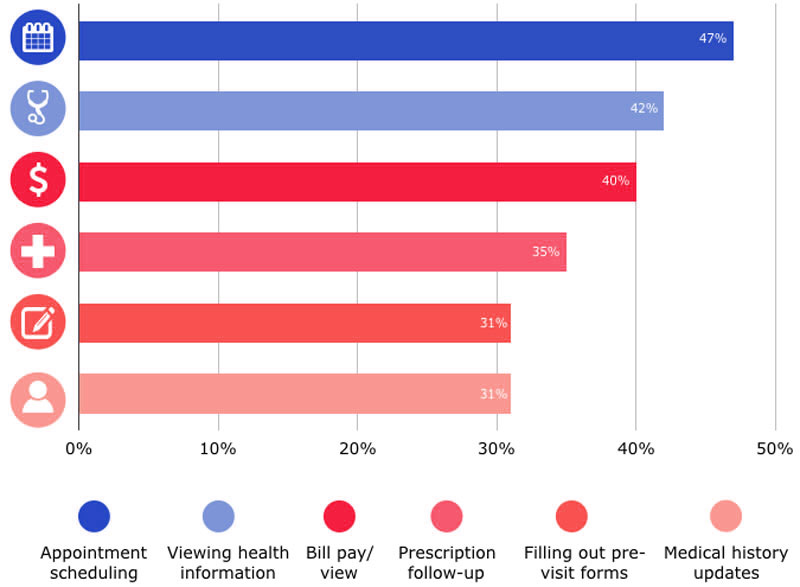 Done, now you are sure to know all the requirements and pains of a client towards healthcare web portals, but what's the starting point for your company? How can you evaluate the best portal, considering your resources and facilities?
For a healthcare provider, there are two possibilities:
Choose a separate healthcare portal that is often hosted in the cloud by a third-party vendor. This technique may cause compatibility difficulties with your EMR and/or EHR system, necessitating vendor collaboration – typically at a cost.

You may also use a web portal as part of an EHR, EMR, or practice management program. Keep in mind that healthcare portals are not all made equal, and their functionality and usability might vary greatly.
But actually, why do you need all this information? What are your advantages? Is it worth hiring an outsourcing company to help you out in building, developing, and designing your healthcare web portal?
The answer is OBVIOUSLY. The benefits are tons, but let's point out some of the most important ones:
Cost-efficiency.

An outsourcing company is employed by the contractor, there are no long-term labor costs, no staff acquisition, no training costs: you pay only for the result.

Time to Market.

Hiring a professional and close-knit outsourcing team for your healthcare web portal development means that each part of the process is done to imperfection and you can concentrate on what needs your attention. That reduces time to the client and boosts quality.

Contemporary High-Tech Services.

Technology is evolving rapidly. Furthermore, you deal with professionals who are very knowledgeable about current technological developments. They are able to deal with a variety of technologies and offer non-obvious solutions because they work with a large number of clients each year.

Personal and Flexible Solutions.

Portals and developers are many, but only you know what it must look like, what are the specific points to emphasize, and the objectives of the overall project. The outsourcing team knows how to make it work and perform.
Positively, this decision may become the core to shift your healthcare business initiative to a totally new level. Though, bearing in mind some of the following guidelines will accelerate and ease the process. Here we go:
Tips to find and hire your ideal team of healthcare software developers:
Past experience.

Ask for recommendations and finished projects.

Price.

Don't be deceived by a low price. A cheap price may say about the low qualifications of programmers. Pay attention to the experience of the team, ask for examples of similar web solutions.

Open work with the team.

It's good for you to have access to the program for tracking tasks (Jira, etc.) so that you can always check the progress and compliance with deadlines.

Comfort.

Whatever good the specialist is, if communication and work process is stress or boredom, then it's simply not your specialist.
Takeaways
Healthcare is nearly the only sphere of human life, where risk and a game of chance are not welcomed. CoventIT is your competent and experienced companion on your way to designing a tailored, effective and growing healthcare web portal. So eliminating risks and pure luck, under our control and with your guidance together we will shape the perfection.