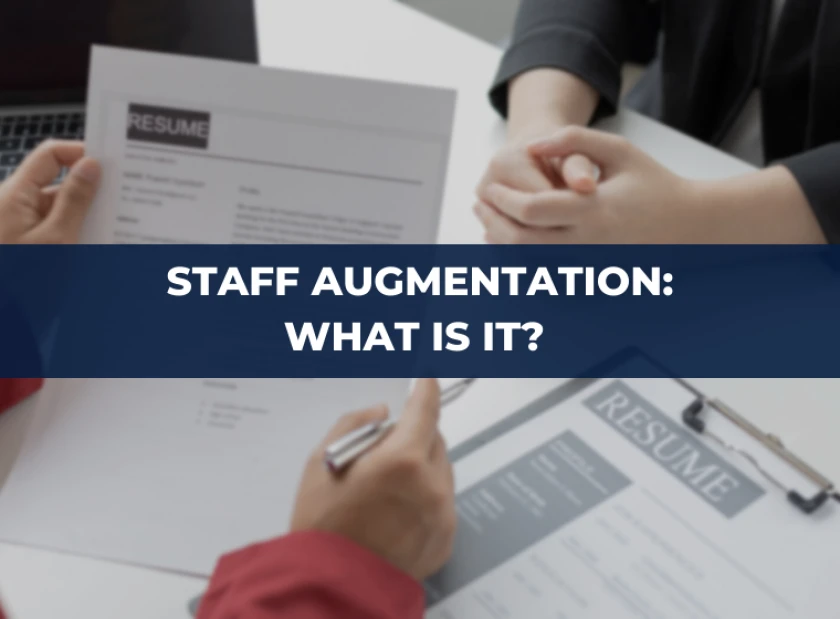 When you need an IT specialist for a project or software development work you could start searching for a professional by yourself. But you could also hire a company that will recruit an IT specialist for you. In this article, we speak about staff augmentation and what is suitable.
Outstaffing or staff augmentation (or dedicated teams) is recruiting software development professionals to work out-state of a company to amplify its team. With staff augmentation, you have a portion of work redistributed while IT specialists join your team seamlessly. Staff augmentation is a good option when you need to find a professional quickly to amplify the work of your IT department or your team, and you would like not to be bothered with the recruitment process. Outstaffing could be very beneficial when a company would like to hire a team or a specialist working in a particular sphere where it lacks the expertise (for example, R&D or marketing).
Emergence of Outstaffing
Earlier all producers were autonomous and they produced the ready product using only their resources. Lately, with the evolution of the world economy and the complication of working processes, the principle of labour division comes into force. It happened also in the IT sphere, where outstaffing came as a solution to settle down all the issues with the workforce, so outstaffing is a natural result of the labour division in the IT sphere.
Some time ago companies were sceptical about outstaffing. As it implies the remote management of the workforce, directors of companies are worried about the quality of work and the final product. However, all these questions were taken away by the adaptation of companies during the coronavirus times. Coronavirus stimulated the remote work, and it changed an approach to oustaffing. So now with all the questions solved the companies that opt for outstaffing get cheaper costs for employment. Today, for example, outstaffing is for Israeli IT companies of different sizes a usual thing, especially among the small startups that are tightly limited by their budgets.
Now staff augmentation is a prevalent concept in the world and also the large companies listed on the stock exchange practice outstaffing. Today the main reason for the outstaffing is the growth a company needs and it could not drive growth within the company itself.
There is a prognosis that IT specialists will be widely spread everywhere. 20-30 years ago IT specialists were a small group of people who had a long-term education and profound knowledge of mathematics and physics and now due to the development of IT technologies even young people could learn to code easily. The modern development of IT technologies allows more people to join this sphere as the demand increases. That is why such a relatively new form of working relationships - as outstaffing - will be developing more and more.
How is it working?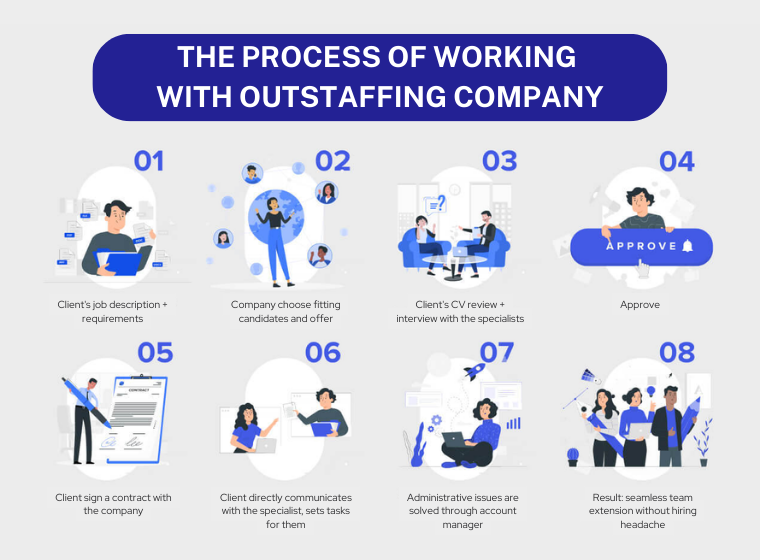 Internal recruitment will take more time and resources than the IT outstaffing company would spend.
IT outstaffing company that will work with you to find a candidate has experience in the recruitment of IT specialists. Such a company has an understanding of the IT sphere and the skills needed for a particular position. It finds a specialist with the hard and soft skills needed and accompanies recruitment and HR issues, providing computers and other equipment to specialists.
A staff augmentation company searches for potential candidates and organizes interviews and tests to analyze the professional qualifications of a candidate. IT outstaffing company will give you a list of potential candidates so you could make a choice. It will also organize all the document and payment processes. In the end, you get a professional in a short period of time, and you save your time and resources.
Staff augmentation turns an internal process of personal recruitment into an external one where all questions, including risks related to recruitment and HR issues, are taken by a contractor. IT outstaffing company is dealing with sick leaves and vacations, and other HR issues. It is also responsible for the people it realises for a company. For example, if there are any problems with an employee, the outstaffing company will find a new specialist in the short term.
In case of crisis or such unexpected events as coronavirus, staff augmentation helps a company to pass the worst-case times. If there is a need to shorten the number of people in the project, staff augmentation allows you not to be bothered with legal and payment issues.
Out-of-state employment could be a step for official hiring by a company: if a professional demonstrates great results in work, he or she could be employed on staff and it will be a new level of employee development in a company.
What about Recruitment Agencies?
When a company is doing recruitment by itself, the recruitment process will take some time and resources, and it could lack knowledge about the IT sphere to choose the best candidate for an IT position.
So in moments of high demand for IT professionals, companies could not manage the search for IT professionals they hired recruiting agencies to find IT professionals. However, outstaffing organizations had also proposed their services, as they have already people working on some projects and they have got the main thing: outstaffing companies had the best experience of searching for IT professionals.
Staff augmentation companies could propose you a thing that recruiting companies could not. It is dealing with all issues related to the employment of specialists.
Oustaffing Or Freelance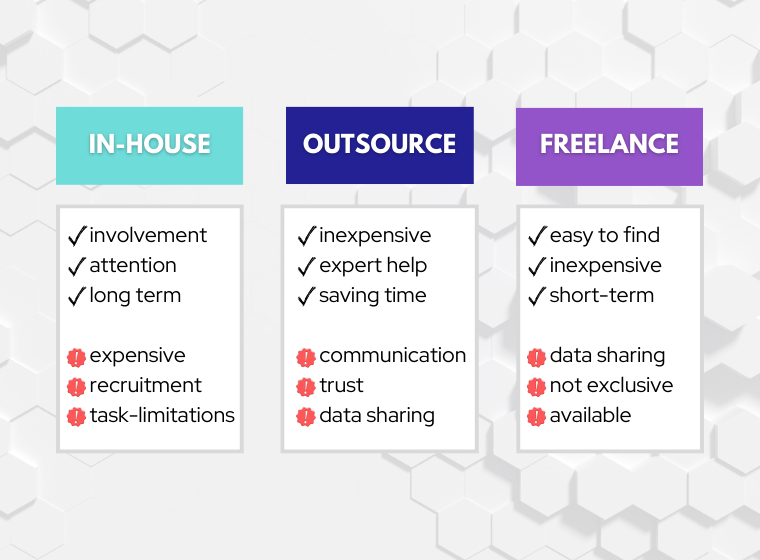 So if we are talking about working out of state, one could ask - should we hire a freelancer?
Should a company hire a freelancer or have an outstaffed worker for an IT project, there is no ready answer. Choosing whether to hire a freelancer or an outstaffer depends on several factors you need to consider:
the terms of a task (is it urgent or not, is it long-term or short-term),
the complexity of a task,
the personal traits of a particular freelancer (professionalism and responsibility) and the involvement of a freelancer in a particular project. You could not influence the workload of the freelancer, so a freelancer could finish the IT project in time but because of the high workload, the quality of the IT project could deteriorate.
Another question to be considered is how to escalate the work of a freelancer, as a freelancer is not tied to a company only but a contract. Freelancer is controlled only by the quality of the final work. So if a company would like to increase the level of work, it has to start searching for another freelancer and spend some time searching for a freelancer.
The situation differs with an outstaffing company: it has closer contacts with professionals it outstaffs, and it has an experience in talent acquisition, especially for remote projects. If there are signs that there are problems with a specialist then outstaffing the company proposes to replace the professional. The oustaffing company takes responsibility for the specialist, controls the quality of its workers and weeds out the people with low professional skills as such employee impedes the business progress of a client. If there is a need in moving up to the next level of work, the outstaffing company could find another specialist who will meet the criteria.
To sum it up, we could say that when a company hires a freelancer it takes 100% of the risks, in turn hiring an oustaffing company allows it to share risks.
Do you want to save up?
When a company needs to hire 2-3 specialists and has resources for searching and recruitment, and HR issues, that could be sometimes costly, there is probably no need for outstaffing, as risks are low. Nevertheless, a company has to launch the recruitment process with its internal recruitment department, then after some time it documents work relations officially, pays taxes for the chosen professionals, and then organizes working places or provides a specialist with a laptop. All this a company will be doing for 5-10 people, but expenditures and risks are higher.
On the other side, a company does not need to think about it when it chooses outstaffing. Yes, direct employment could help to save 10-20% per worker at the initial stage, however, with time the risks are higher and there is a particular routine around a worker's employment. When you have an outstaffing company you have only the people who are working on a project and all other questions are closed.
Takeaways
Staff augmentation that allows you to have IT software professionals working seamlessly in your team without any HR issues helps a company to be concentrated on growth and development.