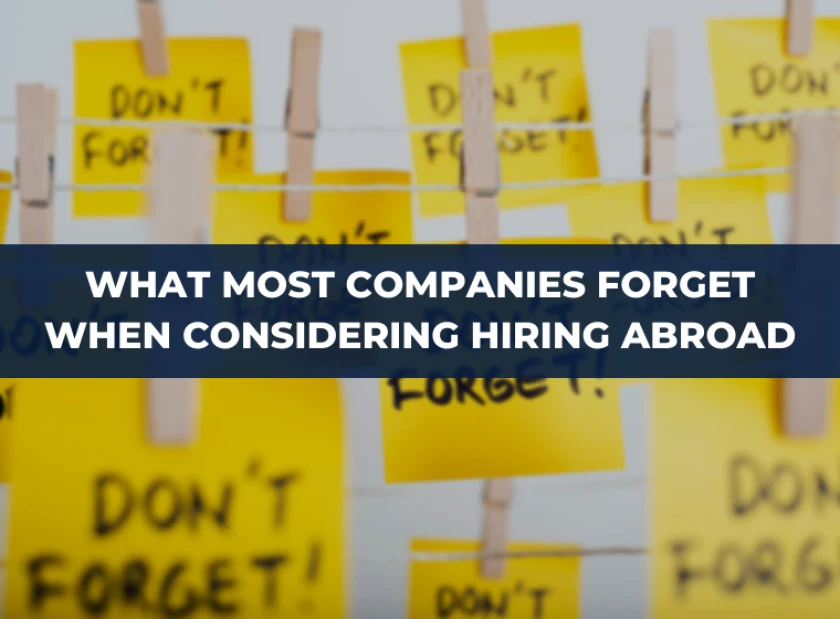 The decision to hire abroad is not an easy one. As a Human-resource professional, you may consider hiring employees in other countries due to various reasons, whether it is to lower costs of employment, find new talents, expediting the hiring process, or the need for a representative office in a specific country. Whatever the reason may be, before starting to locate future employees abroad, you would probably consider few different countries and look for information regarding these locations. these insights, such as analytics of the juridical & economic aspects and review of the "talent-mapping" in a few different countries, will help you make an educated decision and choose the right one for your company.
The thing is, and this may sound as a surprise, we constantly see one very important aspect being ignored- cultural differences. Making sure that the work culture of a considered country can have a decent match with your company, can save a lot of discomforts and complexities in the future. Having a deep understanding of the local culture will help your company not only to integrate better into a new country but will also help you manage a fair and unbiased hiring process. Hire the right talents, build a stronger and more engaged team, and, bottom line, get better results. By gaining cultural awareness, you will find it easier to build a more harmonic and productive team abroad. That sounds trivial, right? Well, as you can imagine, cultural awareness is not only a "nice to have", it is a key success element of staff augmentation abroad. It starts with your hiring process.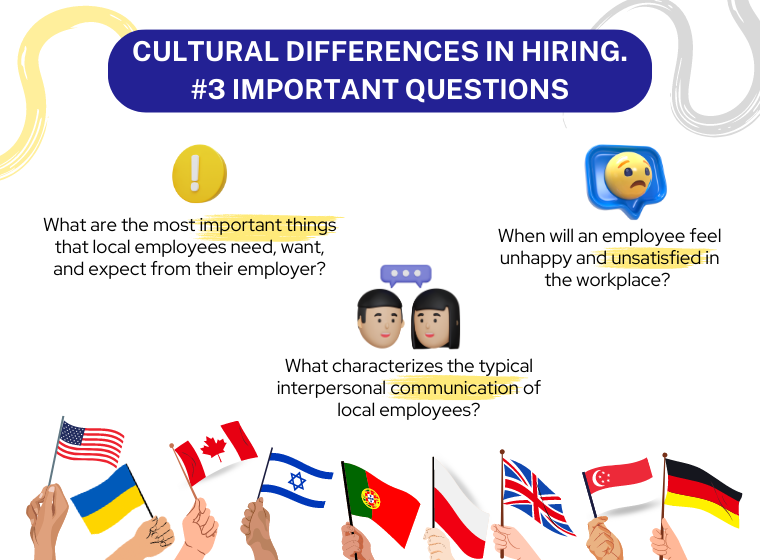 So, how can you analyze this key element?
We listed below some topics we recommend considering when reviewing the work culture of a specific country as a potential location for expanding your team. Whether you do your research online, connect to local suppliers, read a book on the subject, or even take a professional advisor, we recommend you review these 3 (not simple) questions:
What are the most important things that local employees need, want and expect from their employer?
Reviewing this topic will give you a good sense of what is important to employees, what will attract, engage and retain them. Knowing this will also help you also to examine whether your company can supply the right environment for them. For example, if your company is very hectic with rapid changes, but the local culture is more stability and order oriented, this may create issues when not addressed accordingly.
When will an employee feel unhappy and unsatisfied in the workplace? This may seem redundant, but it is actually a different aspect from the 1st one. This will help you understand what aspects of the organization will alienate and create demotivation with the local employees. For example, if your organization tends to have less work-life balance, but the local employee work culture will create a large frustration when the work-life balance is not respected, this can have implications if not handled right.
What characterizes the typical interpersonal communication of local employees? There are many ways to communicate with others, and some ways may not fit your needs or will create an issue if not addressed. For example, if a local employee tends to be more direct, but your company's work culture is more "subtle" in its way of communicating, there is a potential for uncomfortable situations. By understanding the typical interpersonal communication of the local employee, you can minimize miscommunications.
If you read this and think to yourself that this may be generalizing, you're probably right. Firstly, in different industries, different areas of the country or even different types of professions, there can be a variety of sub work-culture. This is why we recommend you to try and be as specific as you can with your research on the work culture. Secondly, these are only 3 initial questions you should explore when learning about a new work culture. It does not cover all aspects of potential cultural differences, but it is a good first step. Thirdly, there will be candidates that will not fit the typecast. having a diversified mindset is relevant not only between different locations of the company but also within teams. The complexity of building a team from different cultures is a challenge that has become more and more relevant to managers and HRs in the post-corona world. And as you can imagine, the first significant step to overcoming this challenge is to better understand the other culture.
We hope these 3 guiding questions will help your initial investigation of your potential next staff augmentation location. And if you are looking for a growth partner, we are here for you.