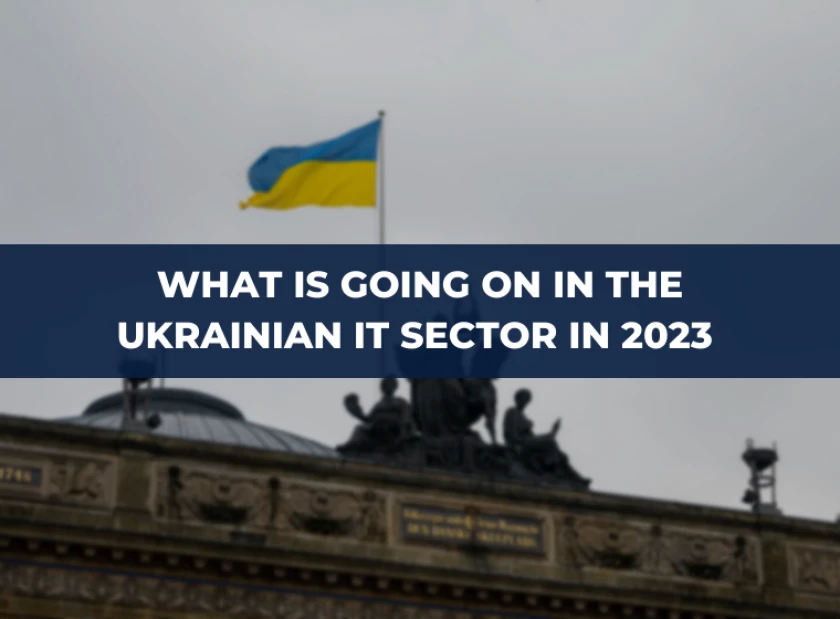 How does the Ukrainian IT industry continue to work after the full-scale Russian invasion? Spoiler: barely without any changing. In this article, we talk about the situation in the Ukrainian IT market from our point of view as a Ukrainian IT company collaborating with foreign partners.
In 2022, the demand for IT specialists in Ukraine had decreased
When the war started in February 2022, all Ukrainians were shocked. Some foreign and Ukrainian IT companies relocated their Ukrainian employees on the eve of the war as a precaution, but not all of them. So since the start of the full-fledged war people in Ukraine have been stressed, as there were a lot of questions to be responded to at once and no one would know what the next day would bring. People started to relocate inside Ukraine, and outside. Sometimes there was no connection with employees and moments when workers could not be at work. But the Ukrainian army demonstrated that it could take a hit from Russian forces, the Ukrainian IT industry accodonates to the new war conditions, where Ukrainian companies needed to reorganize the working process to keep the level of productivity up, to attract new IT projects for outsourcing and outstaffing Ukrainian IT companies.
The IT vacancy market in Ukraine has been changing. In total, the number of vacancies in the IT sphere diminished, as well as the demand for IT engineers. According to the Ukrainian tech jobs marketplace Djinni, the number of open vacancies for developers, engineers and IT specialists in Ukraine has been shortened by up to 10% in 2022 in comparison with 2021.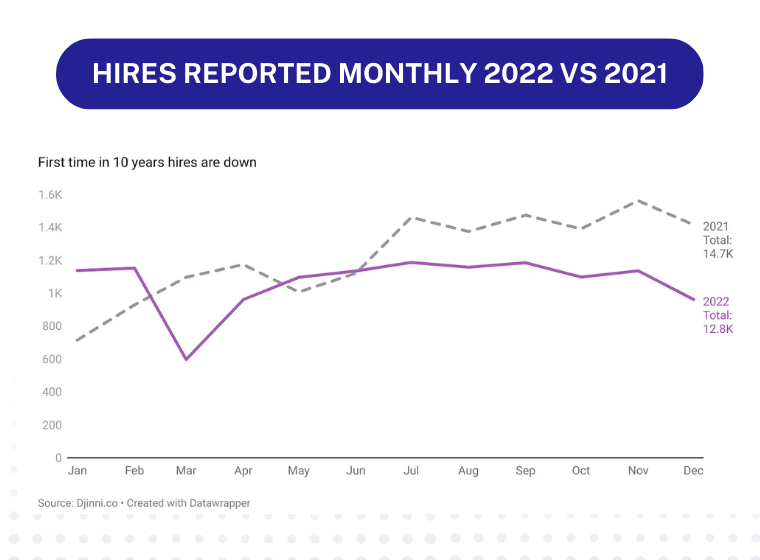 The decline of open vacancies in the Ukrainian IT sphere could be caused by the fact that Ukrainian and foreign IT businesses have moved out of Ukraine, foreign investments in the country have shortened, and layoffs emerged, as some of the Ukrainian companies have not cooped with the economic situation during the war, and have to cut expenses on the IT projects. This situation echoed in the specialists' salary budgets: the last year the wages for a senior specialist were about $7,000, and today they barely reach $4-6,000. The highest compensation was then $10,000 and today it is $7,000.
However, it is not a sign of the decadence of the sphere, as alongside a slightly decreased demand for the Ukrainian IT specialist, the Ukrainian IT market is investing in sales and marketing specialists, as the number of such vacancies has grown. This move is caused by the strategy of the Ukrainian IT companies to attract new projects and investors in Ukraine as well as outside Ukraine.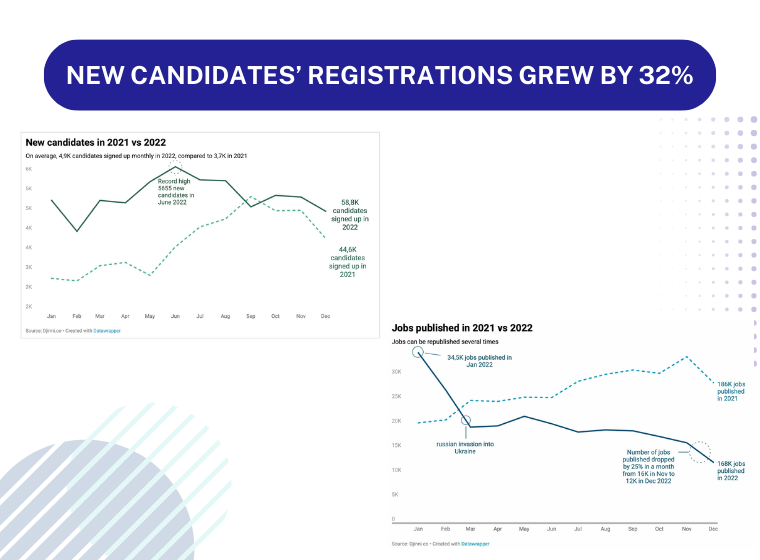 The number of candidates' responses increased from the side of all IT specialists, especially seniors and middle specialists. The number of seniors' responses to recruiters has grown by 20% and by 25% from the middle specialists. Junior specialists were always active in responding to the recruiters, so for them, there is no change. However, they are much less wanted. The most popular now are the middle specialists, as their costs for employers are low while effectiveness is high in comparison with seniors.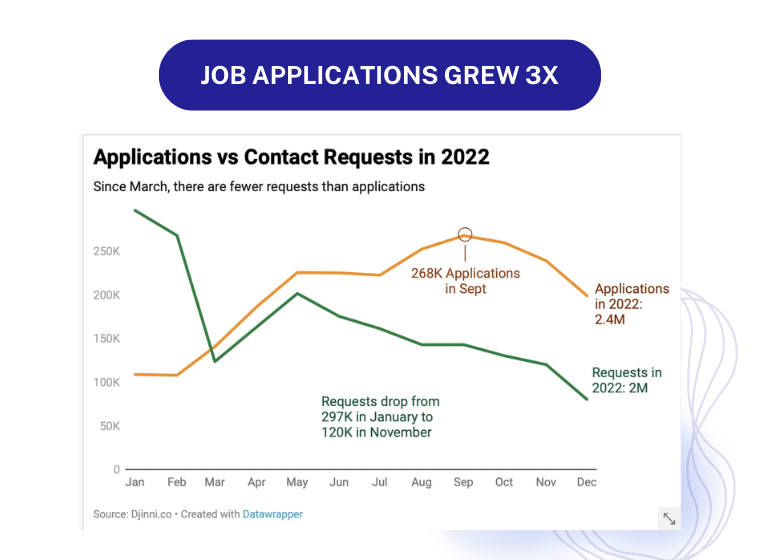 But nevertheless, the Ukrainian IT industry continues to work despite the war and is looking for new projects demonstrating its resilience and unbreakability.
Could Ukrainian IT companies compete internationally?
European partners and investors have decreased their activity in Ukraine due to the war and the insecure situation in Ukraine. As a normal response to the war, American and other companies have taken off their investments in Ukraine in order to mitigate risks. International businesses started to calculate where it is rational to be present in Ukraine taking into account the insecurity and energy showdowns that could impede delivering IT services and products. That is why international IT companies started to leave Ukraine, however, some of them stayed in Ukraine.
From an objective point of view, international businesses are cautious to continue their development in war-torn Ukraine, even now, a year after the Russian full-scale invasion, and it is understandable. So now there is a trend in changing focus and exploring new markets.
Despite the high quality of IT work in Ukraine and the Ukrainian mentality and its approach to work to be well-known and comfortable for business, American companies started to focus on the Mexican IT market, and European companies were looking for partners in the Asian market (China and India) and South America (Brazil).
But orientation to these new markets could bear risks, as who is going to guarantee the same quality of work, responsibility, comfortable communications, and compatible mentality as Ukrainians? The important question is also the comfortable time zones, and Ukraine has a great advantage in comparison with China and India, especially if we are talking about working with the USA and Europe as well.
Time and effort are needed to get accustomed to new employees, organize the communications between teams, and build understanding between teams. And there is a risk that it would not pay off.
That it is a matter of time when the war will be finished, Ukraine would restore its position and international companies hopefully will return to Ukraine. As Ukrainians had proven that they could continue to work despite war and shutdowns, such problems could not be used as a pretext for not working.
Even in the current situation, our company Covent IT is doing its best to ensure a pre-war level of productivity. For their offices, Covent IT bought electric generators and Starlink terminals in order to have no disruptions at work. At-home workers are provided with whatever is necessary to be online without any problems, for example, powerful power banks. In Ukrainian cities, there are also networks of coworking spaces fully equipped to operate during electricity shutdowns.
Ukrainian IT companies invest in their marketing and sale departments in order to attract new projects abroad. Now the world is interested in Ukraine, and if an IT company has a strong brand and could demonstrate its portfolio and expertise, potential customers and future employees trust them. A lot of companies are interested in the Ukrainian market, and even if foreign partners are not ready to invest now in Ukraine, nevertheless they research and communicate with the local IT companies, so they could in future collaborate with Ukrainian companies.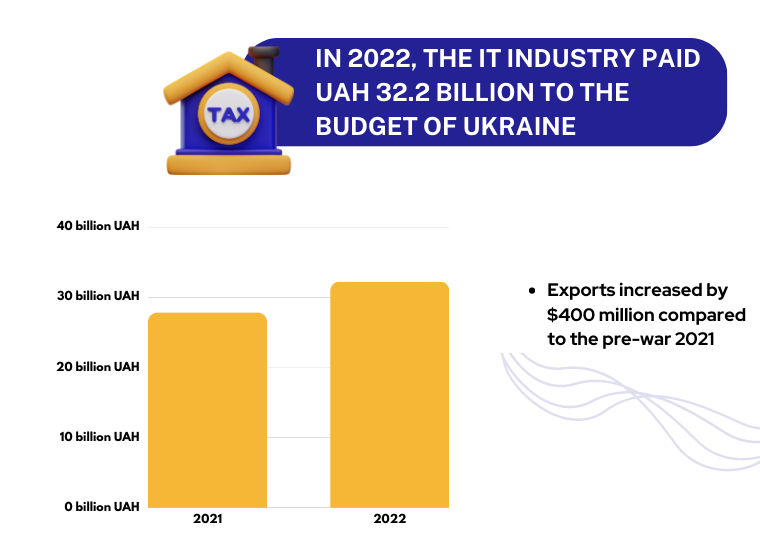 The Ukrainian IT industry now is not just an element of the economy, but it is an element that makes the victory closer. The Ukrainian IT industry contributes to the Ukrainian economy a lot, as it is the only industry that is growing despite the war. In 2022 it exported IT services by $400 million more and paid 16% more taxes than in 2021 to the Ukrainian budget.
Ukrainian IT companies expand their presence in Europe
Another reason, the number of vacancies in Ukraine has started to decrease, is that Ukrainian IT companies had focused on hiring abroad locals and Ukrainians who moved out due to the war. The share of Ukrainians who are outside their country had increased than it was before the war, and Ukrainians now are working outstaff or directly in foreign IT companies.
Additionally, on the eve of the full-fledged attack, some Ukrainian IT companies and business relocated their workers to secure places in Ukraine and abroad too. Ukrainian companies have started to learn about the international markets and look for countries for their offices outside Ukraine. Such Ukrainian businesses expanded their presence abroad, as well as their network of hunting and recruitment. The popular country is Poland, where many Ukrainian IT businesses and specialists relocated, as well as Portugal, Germany, and the Netherlands. For example, in 2022 our company Covent IT opened offices in Poland and in Portugal. In these countries, Ukrainian IT businesses have opened offices to present their products to the local markets and to hire local people, alongside their relocated employees.
Takeaways
Despite the full-fledged war, the Ukrainian IT industry demonstrates great resilience in highly stressful conditions continuing to work inside Ukraine as well as expanding its activity abroad. Ukrainian IT companies found solutions to adapt to such harsh conditions, and even to overcome them. Ukrainian IT companies took care of their employees and provided them with anything they need to work without any interruptions at the office (they even have shelters there) and at home. Some Ukrainian IT specialists have been relocated to Europe and other countries by their companies. With salaries decreased in the Ukrainian IT industry, Ukrainian IT specialists preserve their competitive advantages.