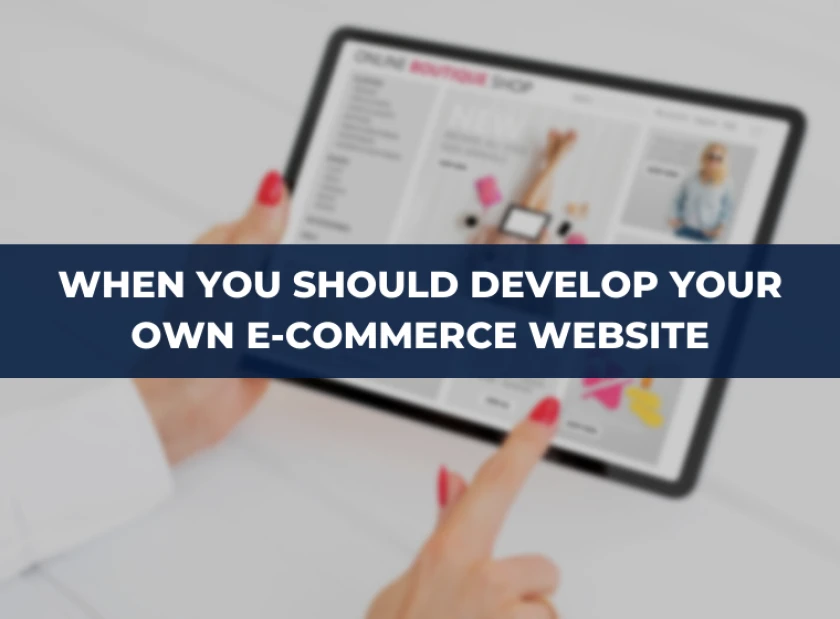 There is a prejudice that e-commerce is cheaper and faster than an offline store: you do not need to rent a space, and you save money on sales managers and shop assistants - your e-commerce store will make sales just as it is. But it does not work like this. In this article, we will speak about the transition to online sales and choosing the right instrument for online business. Marketplaces, Saas-solutions, the program and custom development - all have their advantages depending on your business.
An online store is an instrument, and you need to know how to use it to make sales. Perfectly, if you have experience in selling online before you would have your own online store developed. If you do not have such experience, you could get it by yourself when opening a small e-store at the marketplace or we could consult you about the e-commerce business and its processes.
What Do You Need To Do To launch Your Online Store?
In order to get some experience, you could register at the e-commerce marketplace (for example, Prom.ua, All.biz) to sell 5-6 products.
There are two main tasks that are needed to be completed before you could develop your own e-store: content to present your products and marketing to communicate and sell products to your clients.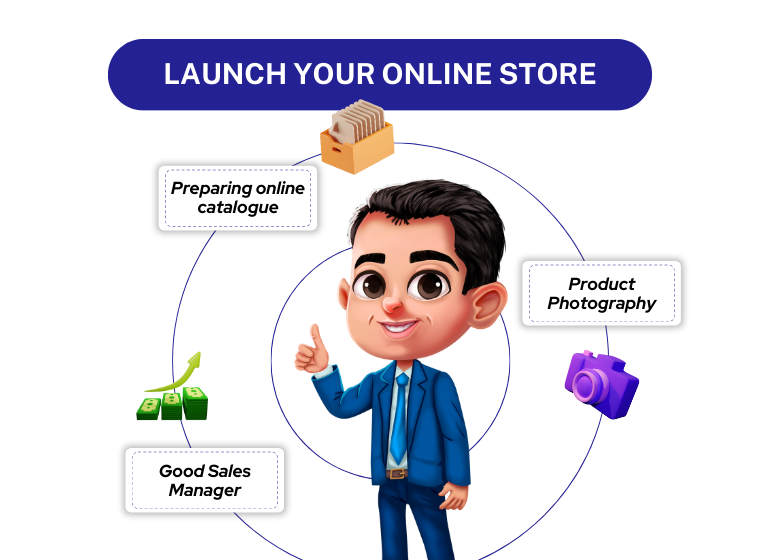 Preparing online catalogue
To fill in the catalogue, you should have a person for it or you could do it by yourself. You should write corresponding product names, descriptions, and attributes.
An empty catalogue means no sales, and if you are going to spend money on ads to promote your store without a catalogue filled in, you will blow your money. If your catalogue has no descriptions, your online store will be invisible to search engines and no visitors will come.
Your catalogue should be filled in correctly. If there is a mistake in a price, you have to sell a product to your customer at the price indicated, as a customer made an order or had paid for a product.
Product Photography
You need to make appealing photos of high quality, as customers prefer scanning pictures during their online shopping. Better images of products give you better sales. Here you need to make a series of photos for your catalogue.
A product card, as well as an online catalogue, should be filled properly - with texts and photos - to assist customers to buy your product.
Sales Manager
A good manager who processes orders from customers is extremely valuable. You could have a catalogue filled properly and ads launched but if your sales manager works badly, you could lose your customer. For example, when a customer places an order, your sales managers should call back to submit an order in a reasonable time. If it does not happen, you could lose your client, as customers could make an order from your competitors just by clicking. The sales manager supports communication with your client and assists customers during online shopping.
A sales manager should have a precise KPI and know the process of working with a client and its order: when a client place an order, a sales manager should call the client after a short period of time to confirm the order. A well-built process of working with clients builds trust in a newly opened store and increases the probability that a product will be bought.
When a process of sales will be organized, you could combine two roles - to be a content-maker and sales manager at one time, especially if you are at the start and have a small number of products in your catalogue. If your catalogue has a lot of products (SKU) and you change them often, or you have a great number of orders, then you need at least two people for these positions.
You should have all these processes to be prepared in advance in order to start your online store on any platform. Otherwise, your store will not work. In your offline store you need space and sellers and in your online store your need a catalogue, a counter where you place your products and sales managers who will take orders from customers.
E-commerce stores could be built on marketplace platforms, SaaS solutions for e-commerce, and content management systems with a program engine. They differ in the level of your business development - from the simpler one to your own e-commerce store at your own website.
Let's look at them closer.
E-Commerce Marketplaces (for example, Prom.ua, All.biz, Amazon and eBay)
E-commerce marketplaces could be the best solution when you start your online business from scratch. Here you could try to figure out the process by yourself - how to add products, what is the functionality, and how to manage notifications, how to process orders. Alternatively, you could save up time and hire a consultant.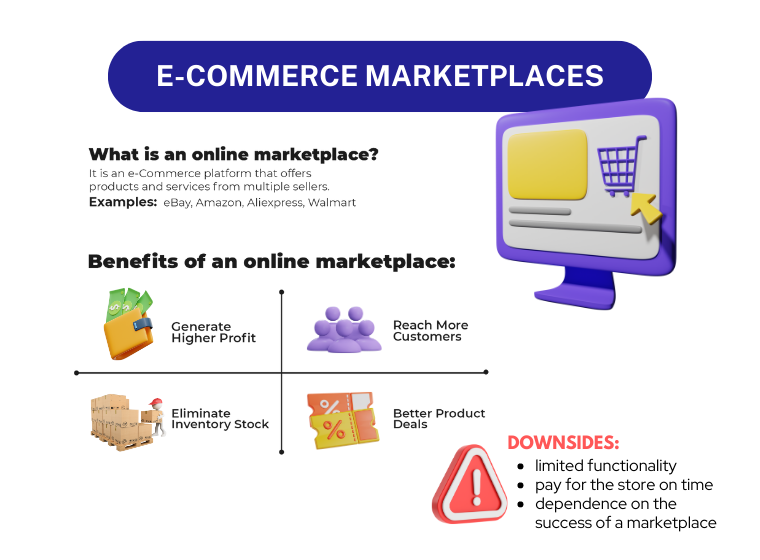 After your store will be launched, you could start selling, so no coding is needed. You do not need to spend more time and money on tuning the advertisement and promoting your store with ads, as marketplaces have their own marketing strategy to attract customers to buy from the particular marketplace. When you have your own online store at a marketplace, you could spend some money on promoting your store among others presented at this marketplace, but if you sell a unique product and have a properly filled product card then your product will be shown first in search results of the marketplace.
When you start working with a marketplace, you need to figure out how to add products, manage notifications, process orders and get to know all the features of a marketplace. You could do it on your own if you have some experience or desire to figure out or get a consultation from an e-commerce specialist, especially if you have no experience in online marketing and you would like to save time and increase your efficiency.
Downsides
E-commerce marketplaces have limited functionality, and if your business grows, you might start thinking about more options and possibilities. You have to pay for the store at a marketplace on time, otherwise, you could lose access to your store and your base of clients. You also depend on the success of a marketplace.
E-Commerce Platforms: SaaS-Solutions/Cloud Online Stores (as Shopify, BigCommerce, Horoshop.ua)
When you would like to open your e-store on e-commerce platforms, you need some time to set up your online store. Before the launch of your online store, you need to customize it first: choose a template, design and other things. Modules that e-commerce platforms propose could add functionality to your store. If you would like to launch your own marketing tricks or activities, you would need a developer who knows the peculiarities of a particular platform and its programming language. The developer will search, buy and customize modules if needed. Then you could launch your online store.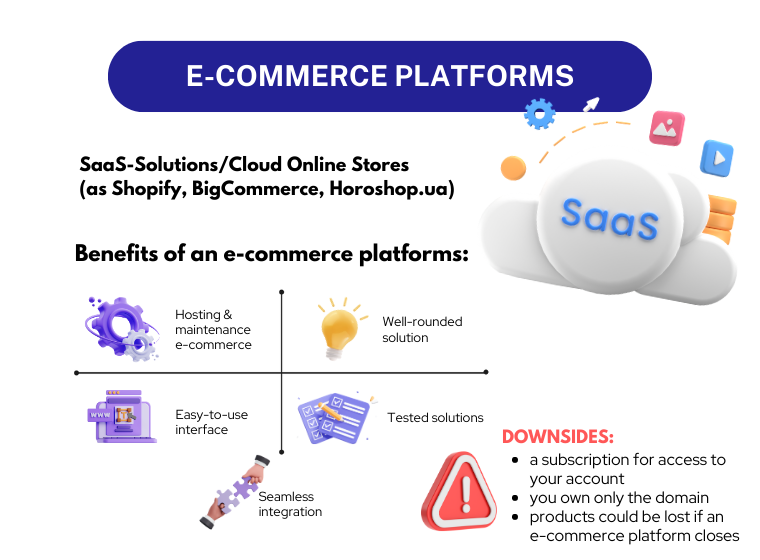 At the e-commerce marketplace, you have your own store in a fast and cheap mode. E-commerce cloud platforms allow you to do more by downloading modules that allow you to make your store special from others. On the other side, your store has no big difference from other stores on the particular e-commerce platform - no difference in discounts and rules for marketing actions, as they are all working on the same template.
Downsides
Having an e-commerce store at the e-commerce platform, you rent a space for your store from the SaaS solution. You pay a subscription for access to your account and your e-commerce store at this service. You own only the domain, as all your products could be lost if an e-commerce platform closes.
Content Management System (for instance, WordPress with its plugin WooCommerce)
Unlike the SaaS solutions for e-commerce, if you have a content management system (for example, WordPress), you could use it however you want. You just download a free or paid program to your computer and start customizing your future e-store. Content Management Systems require minimal development skills.
WordPress is a blogging engine, and the most popular one: 65.3% of CMS websites use WordPress. WordPress is used usually for blogging but with the plugin WooCommerce, you get your own proper e-store.
With CMS you rent a hosting or buy hosting, and if you change hosting you just archive files from your CMS and transfer them to the new hosting. Unlike an e-commerce platform, you always have control over your e-store and your client base.
Downsides
WordPress+WooCommerce is perfect for, for example, 300 products where you have your marketing rules and your custom development. If you have more than 30,000 or even 10,000 products, it will not work for you: your e-store on WordPress could slow down, or you will need to rent a program server hosting or buy a server. So for small e-commerce, WP is good but for middle and middle-plus stores you need other software solutions.
Program Solutions for a quick start - Professional E-Commerce Engines for internet Stores (for example, Prestashop, OpenCart, Magento)
If you need more professional solutions for e-commerce, there are program engines specialized in e-commerce (аor example, Prestashop). It is free and has small functionality for blogs and wide possibilities for e-stores (the exact contradiction with WordPress). Prestashop is quite hard for beginners, however, with its ready modules for your e-commerce store it will economize your time and money.
There are other solutions to Prestashop - OpenCart, Magento. You choose one according to your business tasks and needs and the functionality and possibilities of program solutions. You could also move from one program engine to another if you decide that your actual choice could not provide you with the needed options.
Downsides
Your e-store at these engines could be easily managed with a lot of accessible modules. However, if you need more functionality you probably need custom program software. For example, if you would like to synchronize your own system of loyalty with your own marketing rules for your clients and your system of financial accounting - you could not do it with a ready plugin. You need custom program software to develop it.
The Full Custom Program Solutions
Any engine is an instrument to provide for the client's needs, and if there is no ready solution then a custom program development is needed.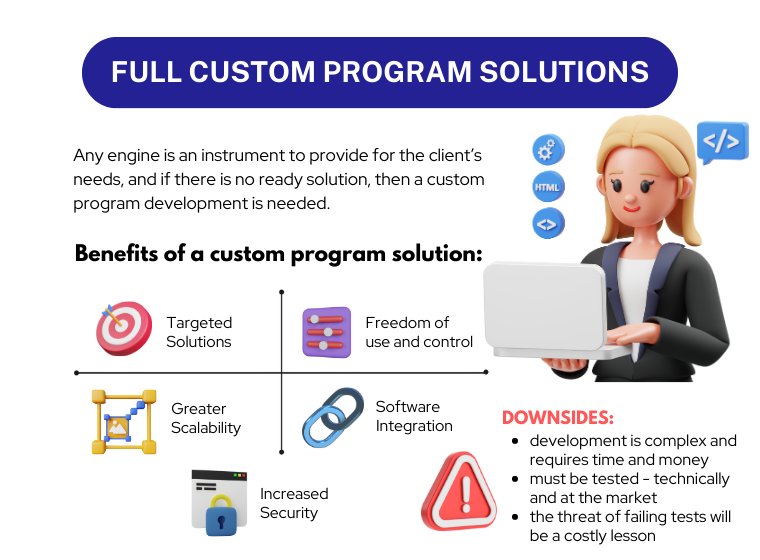 The large retailer for example would like to develop its own program solution for its online store, as it would like to have complicated marketing rules impossible to do with the ready solutions in the e-commerce engines. Or when you have a store developed on the program engine (Prestashop) and you desire that your partners could sell at your store and have their own partner's accounts. All this could be developed custom, as there are no ready solutions.
The full custom program solutions could be the best option if a security issue has high significance to you: all the previous variations we were describing were open-source code solutions. It means that they could be analyzed by a hacker to find out a mistake and hack your store.
Custom program development allows you to realise all your ideas and protects your store from hacking, as with all previous solutions there is a risk of hacking a client's base and endangering their personal data, or copying a program code of an e-store. However, you should always secure your domain secure, as it is your trade mark.
Downsides
Custom program development is complex and takes time and money. Additionally, custom program solutions should be tested - technically and at the market. It could be that it will not pass the tests and become a costly lesson. That is why when choosing this option you should trust your IT partner
Read also: How to Choose an Outsourcing Company
Takeaways
What option to choose when you would like to have an e-commerce store depends on your experience in online sales and your business processes: from a store at the marketplace to your own newly build online store.