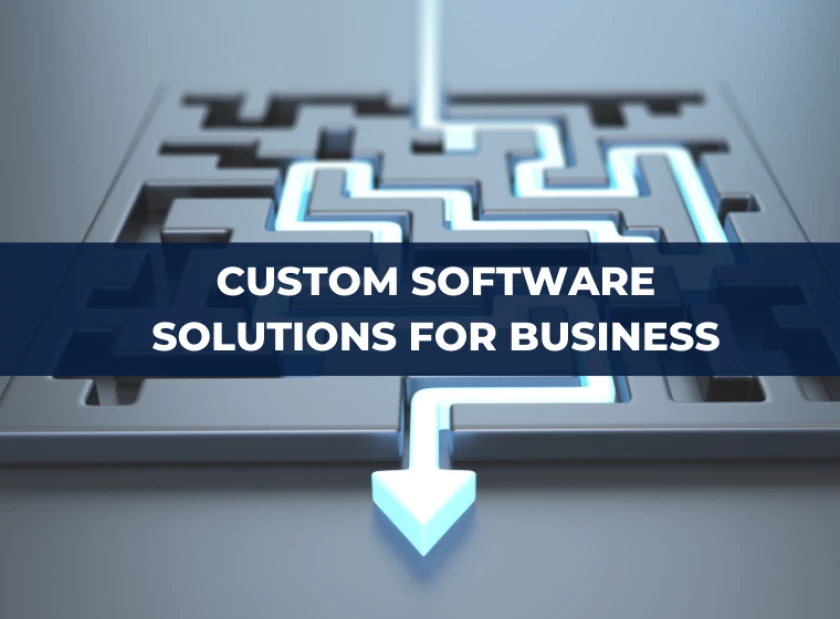 Not only you have adapted to the new reality, but so has your business. If not yet, it's high time to opt for advanced software solutions. The practical advantage of business automation is unquestionable: it helps eliminate paperwork, make better projections, maintain sales, support infrastructure, and achieve even greater success in your business.
When you need to computerize business processes, you can choose between customized and custom software solutions - similar-sounding, but completely different in functionality, concepts. "Customized" means ready-made stock software that can be personalized to some extent. To use it, you should purchase a license. Such off-the-shelf software might be a good choice for beginners, but it hardly covers the needs of more sophisticated business owners. Moreover, from the long perspective, it appears to be a costly option. Custom software is tailored specifically for you. You can easily add or exclude the needed features, automate workflows, and scale software if the requirements grow.
Your business is nothing common, but thoroughly designed to benefit your clients and comply with their needs. Why not adapt your software to make it special for both parties and help grow these benefits?
Obviously, the most evident advantages of custom software are:
Productivity, as it will help your team perform faster and more confidently
Scalability. If you are a growing business, custom software will evolve as the company grows.
Flexibility. With any off-the-shelf software, you fully depend on the application developer. Custom software will give your freedom of action and stability.
Long-term investment. Having paid once you will not bother yourself with purchasing licenses and adding extra features. Custom software is a smart and cost-savvy financial decision.
Finally, bespoke software is unique leverage that will make you go beyond the standardized framework towards boosting your business potential.
Below we list some types of the most popular custom software that can make your business more efficient and profitable:
1. CRM
Digital globalization has reached the point where people are trying to automate almost every process of everyday life. But when it comes to business owners (small or medium), not all of them understand the importance of customer relationship automation. If you aim to get more profit out of your business, then the CRM (Customer Relationship Management) system is no longer a luxury, but a necessity.
What is CRM? In simple terms, a CRM system features custom software for companies to automate customer interactions. It helps store communication history and information about customers, partners, and suppliers. CRM software allows tracking data from multiple channels, including the company's website, social media, telephone, email, messengers, and other marketing materials.

Why You Need a CRM System
CRM is an effective solution for any business that sells goods or offers services. It increases the efficiency of a sales team and each employee without significant financial investments. With a custom CRM software, you do not have to monitor every step of your staff: you can always get access to visual reports on demand allowing you to track the actions and performance of each manager.
When integrating CRM with a website or a call center, you will get a comprehensive picture of requests (the very fact and content of the request, the speed, and quality of its processing). By analyzing information about customers, you can identify the preferences and needs of the target audience, and plan the most effective sales strategy. Another advantage of using a CRM system is the confidence that you won't lose your customer base. CRM works with access passwords available to you.
Read our expert tips on how to choose the right CRM for your business.
2. Accounting and Document Management Software (DMS)
Automate everything that can be automated - one of the leading mottos of nowadays especially at times when you have to dive into tons of receipts, papers, and bills. Accounting and file management techniques evolved greatly and can be performed smoothly with an application that fits your needs and is at your disposal. Though, experienced business owners and accountants opt for custom software as it is tailored to satisfy your company's needs. Yet, bearing in mind your development strategy, preferences and experience, highly qualified specialists, that we also have in CoventIT, will help you decide the format of the accounting or document management software to meet your particular needs and boost productivity.

Types of Accounting Software
There are several specialized types of applications for accounting purpose:
Old good database i.e dashboards, spreadsheets. If you are a small business looking for simple and convenient handling of information, its filtering and sorting, requiring minimum time and investments, then this option is for you.
Commercial applications. Which perform the two main functions: reporting and analyzing data. Thus, it will allow your accountants to deal with the data flow easier, such universal products need to be modernized.
Enterprise-grade software. Exclusive and powerful tool to analyze big data, with the new level of functionality and largely expanding the scale of your business. Cost and time-savvy this option will let you and your employees devote your time to more important current tasks.
DMS systems allow storing, processing, archiving, and delivering large amounts of data during the overall life cycle of a company. Main features in file management software include check-in/check-out, locking, version control, roll-back, audit trail, annotation, and stamps. They are tailored to automate routine work by digitizing your paper records.
Experienced CoventIT developers are able to build highly scalable accounting and document management software that can be easily integrated with any third-party software, like ERP, CRM, intranet, etc. In order to choose the right one, consider such factors as hosting options, search and scanning capabilities, as well as security level to protect your data.
3. Customer Service Software
When replying to complaints, comments, questions from the customers, it's easy to lose track of these multiple conversations, especially if they come from different channels. Regardless of your business size, there is a way to lighten the load on your customer support team. You should invest in the good customer service software. It will help track requests, speed up communication and build customer loyalty.
Customer software can be of three types: ticketing, communication, and live chat, and there are a lot of ready solutions on the market. However, the best one that can unite in itself all the calls, emails, chats, tickets, and whatever you need - is custom-made. With its help, you will be able to customize categories and roles, create rules, manage workflows at your discretion.

4. Bulletin Board Software
Bulletin board or forum software is needed when you want to create a community of like-minded people. Most online forums have simple functionality: they enable users to register, create threads, post in response, create user role systems. Aside from this, there can be additional features that provide a more rich user experience, like profile customization, advanced text editors, private messaging, comment signatures, and achievement systems.
How the forum should look depends on your aim and the kind of experience you want to provide. For instance, you may want to create a forum that lets users submit queries. Or you may need a message board incorporated into your website. Our developers at CoventIT can provide you a seamless solution to effectively complement your website and meet the needs of your customers.
5. Web Portal Software
Custom portal software is a solution for your prosperous business when a simple website can't handle the load anymore. It helps provide a customer a concise option to gain multiple benefits such as:
User-friendly interface - the first and foremost asset, as it will boost the engagement of clients
Efficiency growth with easier and quicker access to the tools and services, as well as a growing ability to manage larger data streaming
Expansion of your business, that is no longer confined with the website limited options
Real-time secure information, that grants a dynamic experience maintaining the security of your data, which has to be well preserved
In-time analytics, allowing the owner to manage and control the key aspects of his business performance
When should you invest in web portal software? There is no single answer. A web portal serves as a bridge for sharing information between your company and your customers. It may take the form of an online banking platform, a patient, student or a city portal allowing access to various information, schedules, or records. In general, business owners choose the portal when they need to:
reate a specific audience experience
integrate several systems into a single visual design
have advanced control over the info users see
have advanced permission features
At CoventIT we can help you choose the best type of portal to fit your specific needs. We have a lot of experience in developing self-service, eCommerce, eLearning, and corporate web portals. Moreover, we can integrate the portal with custom-made or platform-based tools you already use.

6. Custom Trading Software
This type of software can be used in different types of businesses, such as equity and commodity or crypto exchanges, brokers, hedge funds, etc. In order to create fast and effective trading software, a developer takes into account such nuances:
Graphs and diagrams. Custom development helps customize charting tools to analyze the data in real-time, export data to other applications, etc.
Mobile or cloud technologies. Quality trading software should be able to quickly synchronize between a laptop and a smartphone.
Big data. Trading software collects and processes a lot of data. It's crucial to create efficient and error-free software to be able to work with such an array of information.
Frequent transactions. The lower the system delay, the faster is the transaction. The task of developers to make servers, hardware and software run as fast as possible.
Takeaways
When ready-made web solutions for businesses become insufficient, it's time to use custom software. While this may seem like a costly solution at first, it definitely pays off in the long run. CoventIT has excellent expertise in developing and integrating all above-mentioned types of custom software. We are eager to deliver you the ultimate software tailored especially for your business challenges. Make the cutting-edge technology, innovations, and experienced team work for you.